A very Merry Christmas and a joyful holiday season are what Dr. Jonnes and the whole team at Cedar View Dental in Lynnwood would like to wish for you and your family.
We are aware that everyone is busy at this time of year. The hurry to complete your to-do list may easily obscure the true spirit of the occasion.
Don't forget to savor the time you get to spend with your family and friends as you're rushing around finishing up your last-minute Christmas shopping, cooking, and preparations for the big day.
Say "thank you" and express your gratitude to the people in your life who mean the most to you.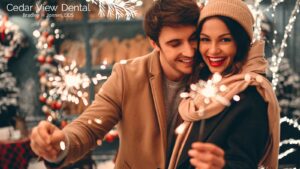 In that spirit, we would like to thank each of you. We are incredibly appreciative of each and every one of our patients and think of you as members of our larger family.
We wish you a very happy New Year and a safe and enjoyable Christmas!
It's time to unwind and recover when the Christmas commotion has subsided. Making the next dental appointments for yourself and your family can help you get a jump start on the New Year. After all of those delicious holiday indulgences, it's a good idea!
Keep in mind that you should visit the dentist for a checkup every six months to maintain your smile. Any dental needs you may have will be taken care of by the staff at Cedar View Dental.
Even better, you might want to think about giving yourself a late-Christmas gift like teeth whitening or a smile makeover. Whatever your objectives, we can assist you in achieving the smile you've always desired.
We appreciate all of our friends in the Lynnwood and Edmonds area who have helped us out and relied on us for all of your dental requirements. It's an honor to be your family dentist.
Happy holidays and a prosperous 2023 to all!
Please get in touch with us if you want to make an appointment or if you have any inquiries.