There are various types of dentistry, just like in the medical field. Knowing what kind of practice you are entering is important when selecting a new dentist. Most patients are unaware that dentists may be affiliated with specific brands or accreditations. We are a Kois dental practice, which means that Dr. John C. Kois trained our team at the Kois Center in Seattle.
The Kois Center? What is it?
A post-graduate learning facility called The Kois Center offers continuing education programs supported by scientific research in dentistry. It is the only ongoing education program in the nation to carry out and disseminate original research.
Each year, courses are revised in light of new scientific evidence, so graduates of the Kois Center are practicing dentistry using the most recent research available.  Data is gathered from all over the world for research on topics like the best filler material for cavities and the durability of a bridge.
Why are Kois dentists different?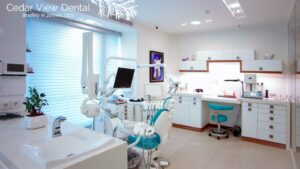 Before graduating from the Kois Center, a dentist must successfully complete a nine-part curriculum. Treatment planning, complex restorative management, biomechanics, and other subjects are covered in the coursework. Students can improve treatment outcomes by learning best practices from around the world in these courses because they are supported by research.
Let's talk about what a Kois dentist learns in the treatment planning course so that you can see more clearly how this coursework helps the patient. This course covers the initial examination of a new patient and what a dentist should check for when seeing a new patient for the first time. This comprises:
Biomechanical risk: The structural integrity of the teeth, including decay, enamel loss, and fracture.
Periodontal risk: Gum disease and recession risk.
Functional risk: Also known as TMD, or the risk of bite problems, and clenching and grinding.
Aesthetic Risk: The appearance of your teeth.
When we examine a patient, we want to learn more about their risk factors for each category. While one patient might fall into each of the four categories, another patient might only be at biomechanical risk. As your Kois dentist, it is my responsibility to conduct a thorough examination and gather information, in order to begin regaining some control.
Prioritizing your dental problems is the first step in creating a long-term, sustainable treatment plan that will restore your dental health. We are able to develop a more systematic and logical treatment plan and anticipate where future issues will arise by first understanding your dental risks.
Kois dentistry is better dentistry
One of the many ways my education from the Kois Center benefits my patients is in conducting an extremely thorough new patient exam and creating a structured treatment plan. My training as a Kois dentist enables me to treat patients in all risk categories more effectively once a plan has been put in place.
If you would like to receive care from a Kois dentist, schedule a visit with our Cedar View Dental office in Lynnwood, WA. We'll be happy to discuss your treatment requirements and develop a plan of action that works for you.