A tooth may become so damaged by tooth decay that it will eventually require restoration. When this occurs, your dentist will go over various tooth repair options with you. When your tooth is harmed due to accident or tooth decay, your dentist might advise a dental veneer as one of your options.
Dental Veneers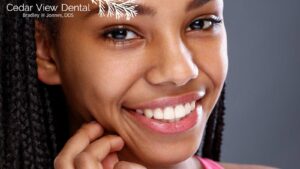 Dental veneers are prosthetics that are bonded to the front of healthy teeth to cover imperfections brought on by decay or accidents. Your dentist will assess the degree of the damage and the most effective method of repair. They will reshape the tooth if they choose dental veneers. The next step will be the process of creating and placing a dental veneer.
What Makes Dental Veneers Necessary?
It is vitally important to have a tooth repaired after it has been damaged. You run the risk of an infection, additional tooth damage, decay, and other problems if you put off the repair. Dental veneers are sometimes used for the following reasons:
Damaged as a result of tooth decay
A tooth with a crack
A chipped tooth
A broken tooth
Crowding of the teeth
Discoloration
It is extremely important to see your dentist as soon as you become aware of any of the aforementioned symptoms. The process will be easier if your dentist can address the problem quickly.
What Benefits Do Porcelain Veneers Offer?
As much of your natural tooth as possible will be saved by your dentist. Due to this, when a veneer is an option, the majority of dentists choose to use one over a crown. However, there are other benefits of a dental veneer besides keeping the natural tooth. In addition to being aesthetically pleasing, veneers are also strong. A patient can bite and chew just as they did before the tooth was damaged with the help of a veneer. This makes a veneer a great replacement option.
For patients who are willing to pay a little more up front for veneers that will last a long time, porcelain veneers are a great option. A patient can anticipate a porcelain veneer to last up to 10-15 years after it is placed. A veneer might even last longer for some patients!
This directly compares with alternative options such as composite veneers, which typically only last between 5-7 years.
What Are the Prices of Porcelain Veneers?
Although composite veneers are less expensive, porcelain veneers have a much higher value. They closely resemble natural teeth and are constructed from a more durable material. However, it is crucial to be aware that a porcelain veneer may cost between $500 and $2,500 per tooth. Conversely, composite fillings typically range in price from $250 to $1500 per tooth. Quite often, the cost will not cover any additional tooth repairs.
In order to preserve the integrity of the tooth, it's crucial to have a broken or decayed tooth repaired as soon as possible. If your tooth is damaged, schedule a visit with your dentist.
Interested in Veneers?
Are you particularly interested in learning more about Cedar View Dental and the porcelain veneer procedure? We are delighted to help you achieve a stunning, healthy, and self-assured smile.